After months of hemming and hawing - reality check, it was at most two months - plants for the front garden have been selected, placed and planted. It was a cloudy, raining morning which was perfect for transplanting.
After facilitating the munchkins cooking the entire family a breakfast of champions, which was pancakes of course,
Wifey
and I headed out to the garden. This is where what we started with at 9am.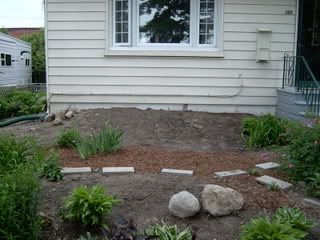 And here, just behind the iris and
day

lillies
you can spy upon the mock orange that was planted earlier this month.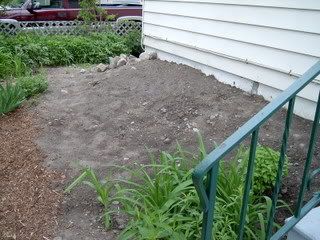 We placed out the plants and got to work. We had five shrubs to plant - 3 emerald gaiety
euonymus
, 1 blue
danube
juniper and 1 royal purple
smokebush
.
Wifey
took the lead on digging the holes, while I took the lead on transplanting the shrubs and weeding elsewhere in the garden. It was running quickly and efficiently, until we hit hole number three. This hole has been termed the hole from hell. We've got rocky, clay soil, and the compaction near the foundation from the fall waterproofing isn't joyous to work in.
I think it took
Wifey
about 10-15 minutes to dig this much out. Note how she's standing with her full weight on the shovel and nothing is moving.
Relationships are about compromise, and apparently, gardens are too.
Wifey
had really wanted a juniper, and so I worked a blue
danube
juniper into the mix. I had really wanted a
smokebush
, and
Wifey
wanted to get rid of a tree that had been knocked by the bobcat during fall construction.
You can see it was a win-win situation.
And finally, the planting was done.