The rain rolled in on Tuesday and I've been able to temporarily turn my attention from outdoor to indoor projects - primarily cleaning a house that hasn't properly been cleaned in a few weeks.
The garden project is looking to be in pretty good shape and we've made lots of progress.
First off, I purchased 1x8 western red cedar from Home Depot, where they also kindly cut the pieces to length. I had tried to find a local lumber yard in search of a lower price, but where I stumbled was in actually locating a lumber yard. Home Depot sold the wood at $10 a board and when I found out that Rona was selling the same wood at $15 a board, I thought I had a deal.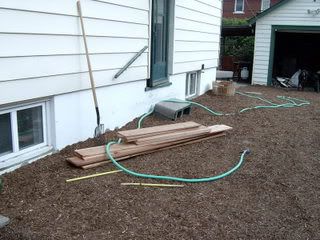 Using
these
brackets from Lee Valley, I built the first level of each of the three raised beds. Frankly, this was the easiest wood construction project I've ever completed. Simply
pre
-drill your holes and screw in the brackets.
Our initial plan had been to build 3 beds, with three levels each. Once we had the second level stacked on, it gave us a raised bed depth of 16 inches,
over top
of another 4-5 inches of topsoil , which is covers the old gravel driveway. We tested what a two level high would look like versus the three level, and were sold with the two level.
The two level bed should give our veggies sufficient root depth. And, we always have the option in the future to add the third level.
This turned out to be an excellent decision as I decided to fill the first bed full of lasagna garden goodness, to give it 2-3 weeks to cook, and managed to deplete all of my organic materials reserve. What we have in this bed is a layer of newspaper, covered with alternating layers of leaves, composted manure, coffee grounds,
sphagnum
moss, half finished compost, some grass clippings and topsoil.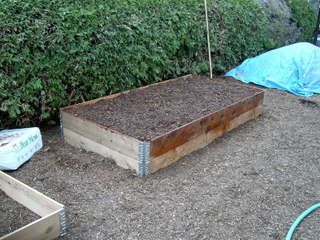 The other two beds were built up to a second level, and this weekend, I will be working on digging them in, leveling them off, and scraping up some more organic materials. I had hoped to have the second bed filled by now as I've got a bunch of veggies to start from seed.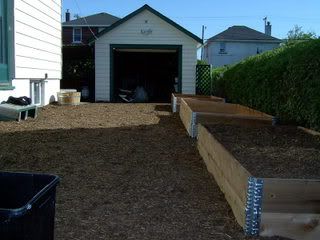 We also purchased this fabulous rain barrel and have it installed, albeit incorrectly. I wanted to get in in before the week of rain so it could fill up. There's about 1/2 a barrel full now and the water is dirty, dirty, dirty. I think it's time we clean out our gutters. This weekend will also be a great time to fix the downspout and have the barrel installed properly.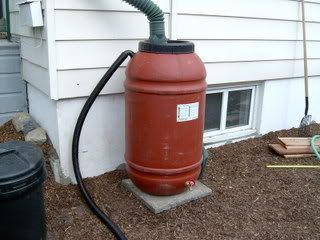 This is what the side yard looks like right now. I've contacted two contractors so far about building the new step for the house and a fence and neither have bothered to show up at our arranged meeting times.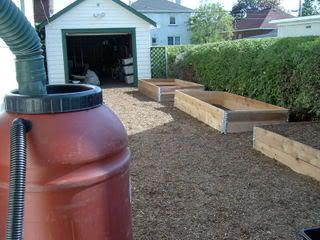 I've been itching to plant my tomatoes out for the past week and have held off. I also made a tentative mental plan to get them into their bed this weekend. But my gut tells me not to. It tells me I should wait even longer. And, this week Weather Canada has, too.

It's been very, very chilly here, near the freezing mark, and tonight we have a definite frost warning in effect. May 6 is the supposed "frost free" mark for our fair city. The gardeners' rule of thumb in our zone, or so I'm told, is the Victoria Day weekend. I think I'm not going to risk my two month growing from seed project and give it one more weekend.