This year, I'm growing tomatoes from seed.
I've become fascinated with the thoughts of eating sun-warmed tomatoes freshly picked off the plant from the garden. I've also started to nourish the desire to dabble in heirloom tomatoes.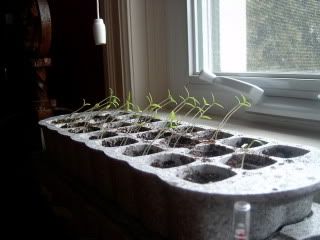 One of the challenges I foresee with this project is that I don't have grow lights. We do have, however, a fabulous south facing window that gets lots of sun. Of course, it's been rainy and overcast since the seeds have germinated and that's why they're doing this big stretch towards any hint of light.