My body knows it's spring when I turn down the street heading towards home and I can see the yellow of the forsythia blooms. The forsythia, and this particular one, is perhaps my favourite spring shrub. Maybe because it's usually the only thing in bloom in my garden at this time. I love the way it seems to glow at night under street light. I love the way it looks at dusk after it rains.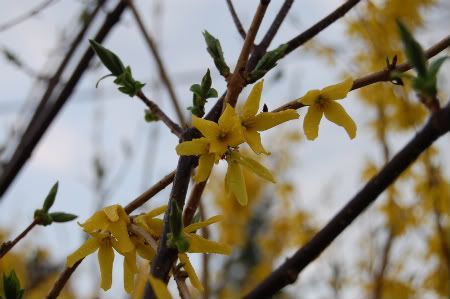 Soon after the forsythia bloomed this week, the first batch of daffodils bloomed. These are my first daffodils ever. I can't even remember what kind they are, but I purchased a bunch in the fall. I'm enjoying them so much that I've made a mental note to ensure that more daffodils are on my fall purchase list.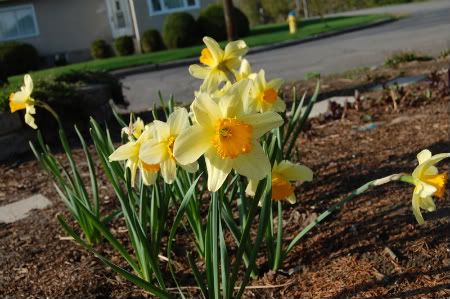 And this is what the daffodils look like up close. Flecked with dirt.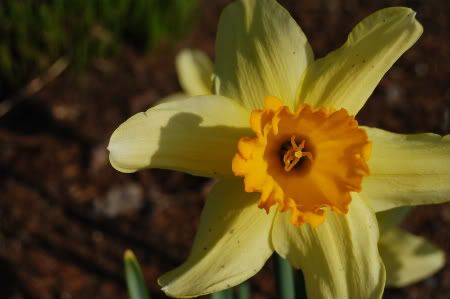 The first tulip of the year to bloom were these lovely red ones with great foliage. I have no idea what these are as we inherited them with the house.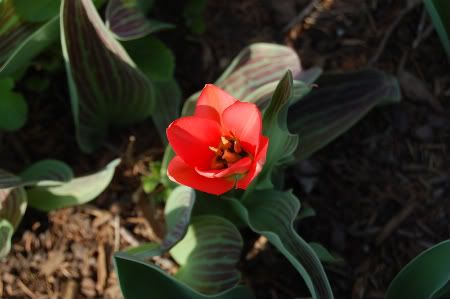 The biggest disappointment of the year goes to the rock garden tulip - Tulipa violacea 'Pallida' - which was supposed to look like
this
. I splurged on three bulbs in the fall because these were supposed to be white tulips with blue centres. Only one has come up thus far and imagine my surprise/horror when the leaves unfurled this afternoon to reveal a yellow centre. I don't imagine the yellow will turn to blue. Right now, I just feel ripped off.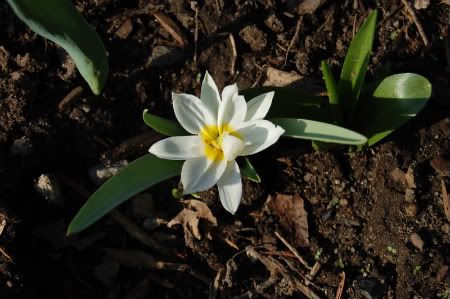 In the veggie garden, I have my very first shoot. Only peas and spinach are planted outside in the side garden right now. And, here is the spinach.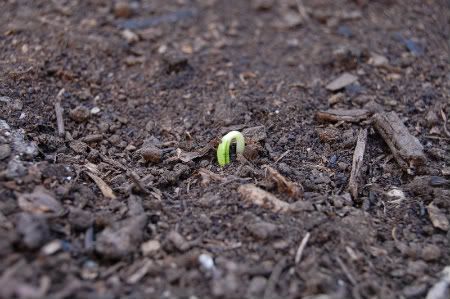 You have to love that tax refund season coincides with the start of gardening season.
We were at Home Depot last weekend to purchase the hedge pruners and a new composter. On a whim, we took a rest in a outdoor furniture set. Wifey was smitten.
To make sure she was truly in love, I made the whole family drive from store to store to try out and assess the style and comfort of various patio furniture. The winner was the first set we sat in and we welcomed it home this weekend. The only draw back was my naivety that this wouldn't have to be assembled with an allen key. But, it's together now and with all the crap hanging out back there it looks as if it has been ours for many a summer.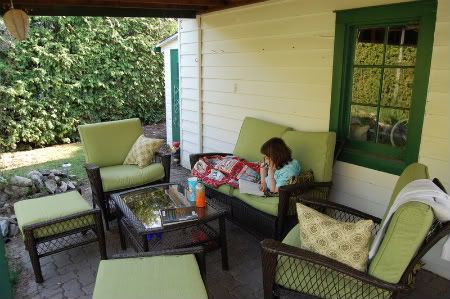 That funny paper lantern like thing to the upper left of the photo is a faux wasp nest. We've had really bad issues the past two summers, and in Wifey's course of research, this is supposed to fool the wasps into thinking other wasps have already built a nest in that particular place. I suppose it's better then Wifey running around the yard armed with the can of raid as she chases wasps around.

Gardeners, plant and nature lovers can join in Green Thumb Sunday every week. Visit
As the Garden Grows
for more information.