Everyday I'm hoping that the contractors will finish off my fence project so I can finally show off my last gardening project of the summer. The new side step is built and installed, although it still needs to be stabilized. The posts for the fence are now in. I just need a fence to go between the posts. Oh, and some pictures of the project. And, I need it to stop raining so that the contractors can work on the project.
Instead, I'll share with you the tomato plant I'm in awe of.
While I haven't quite exactly yet measured it, I did have to stake it from the
eavestroughs
at the back of the garage. This involved standing on tiptoe and reaching above my head. I guesstimate that the tomato plant is well over 6ft in height, 5ft in width, and it's still growing.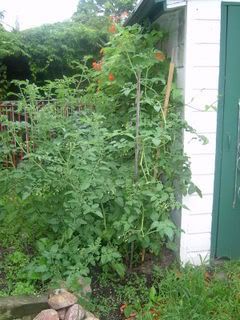 This is a sweetie cherry tomato and it's covered in fruit. None of the fruit has ripened quite yet.
Holy compost. That's all I have to say. And my
teensy
regret is that I didn't put one of my heirloom plants in the former compost area. I'm sure that would have knocked my socks off.
The tomatoes in the raised beds are starting to ripen. Only the cherry tomatoes here, too. We've (kids, wife, dog and birds) been munching on some of the
christmas
grape variety.