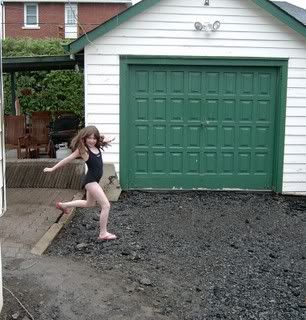 Wifey had to work all day Saturday. The kids spent all of Saturday asking when she'd be home.

Wifey went into work on Sunday morning, too. I called at 10:00 am and kindly requested that she return home as the kids were asking for her again in 5 minute intervals.

Laden with parental guilt about her absence, Wifey wanted to make sure her return was marked with the memory of the weekend.

After much coaxing and convincing, on went the bathing suits and sandals. Out into the pouring rain they went. And, together they ran around the house three times screaming with laughter, "April showers bring May flowers."